Top 5 Web Design Trends and Predictions 2020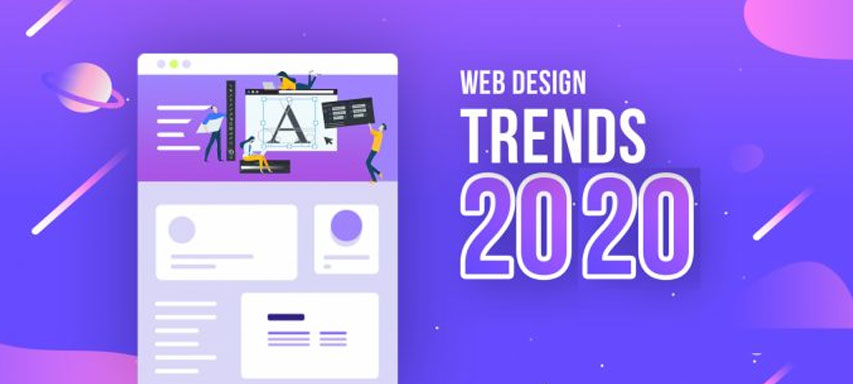 2019 began with a set of trending designing including parallax effect and loud typography. 2020 will be nowhere behind and is all set for a breathtaking experience.
User's choices, preferences, and ideas keep moving radically. To consume the most out of web designing business, web designers focus on distinct areas of trendy designs and put it all out there on the websites. Let's discover what designs are going to be a hit in 2020.
There is an intriguing way of attracting customers to your website and customized illustrations are sure the best way. If you go way back to the '50s, illustrations were a powerful way to dominate the web industry. The fancy, creative and unique graphics provide a sleek design as compared to a photograph.
IT makes your brand stand out amongst the competitors who are always sticking to downloaded images or authentic photographs.
No denying that photographs have their own visual appeal, but illustrations offer many design benefits:
They will mock you, laugh at you, see your presence outshining and then copy you. Doesn't this happen all the time when you do something unique?
The distinctive designs will make you stand out from the crowd. You won't give a monotonous idea about your brand with quirky illustrations.
A customized graphic gives you the flexibility of adding the secret element and putting the design as you have envisioned versus the attempts of finding a perfect picture.
You can suit your design according to the requirement and the kind of feeling you desire to have. You can have your background and colors changed to your preferences.
2. Less is More – Minimalism & White Space
Website Designs
are the most crucial and foremost thing to execute. There were times when graphic designers were filling all types of creativity in their designs to make it look fuller and attractive but it's a bygone story.
Minimalism is the new cool. Yes, simple yet appealing designs attract more customers as it clutters down the extra information and focuses only on what is required.
It's the small details that matter. The White spaces between the CTA could
3. Gradient Design – Color Optimization
Color gradations have been in trend and have adopted by many designers too quickly. Color gradation is a technique to blend two colors to create a rich, layered structure and integrating them with images and gradients. This results to be an aesthetic and eye-catching experience.
Here are some of the gradient tips for your UI designs:
Use color transitions on backgrounds or web elements like buttons, icons, etc.

You can fade in two colors of the same family to get a soothing effect of colors but make sure you don't choose far relatives of colors like green and blue. Blending colors like orange and red will work effectively.

Don't try to use the colors with the same depth and distance. To get the best illusion, mix the color of different hues and saturation.

Basically, to get the natural colors, place the lighter color on top of the darker color.
4. Start of 3D models and Rendering
Web Application Development is truly not complete if you don't get to see an X factor. 2020 would be a lot different for all the cool trends.
"Why?" you ask. 3D models and rendering are going to be an exciting rise, breaking all the barriers for most designers.
Although, 3D models have been a historical feature not many designers have dirtied their hands, to say the least.
With the rising competition, Things for designers are getting serious day by day. It has been the most challenging feature to integrate but designers are doing it with specialized 3D training to grow above all.
The cost will significantly drop for implementing this feature with the popularity increase and definitely will be the top trend of 2020.
2019 have gone past the wave of parallax effect, chatbots, black and white palettes. Although these effects may be perfect for your website now, if you wish to outgrow amongst competitors in this market, you have to be different. Asymmetric layouts are a great way to attract your audience.
This design is more popular for developing individual websites. But it is receiving adoptions by other industries too.
Grid-based websites are majorly order-based and play safe. Not that it is bad to stay safe but brands with asymmetric designs have received a great boom!
Brutalism, fancy typography and bright colors are a part of asymmetric layouts sometimes.
Even though, it makes you stand out but always keep it simple. Obsessing over asymmetric and funky designs might just lead to downfall even before you grow.
Here are a few references:
Web design trends and technological advancement will continue to dominate businesses in some way or the other. With more techniques and tactics, web designers are moving their game up with unique and ingenious ideas. They must continue to do in 2020 and beyond.
Theoretically, even though following up with trends hold a big bite of the piece of cake you get out of it. But the basic standard of web designing stays intact. If you think, your website has started to get perish and the conversion rate is decreasing, considering a
website redesign services
would be appreciable.
After a couple of years, we might be seeing a VR-influenced website and it will be a no shocker. For the time being, the above mentioned 5 trends are vital and must be inculcated to stay in the game longer.