Our clients are featured in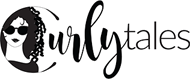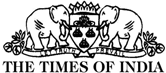 Virtual Law Firm Solutions
Nowadays, it is a requirement for every law company to have a location where they may organize their paperwork. With the advent of new tools, managing legal procedures is getting simpler. Solutions for virtual legal firms enable you to work remotely or with cloud-based services. Contact Bytegrow if you want to know more about our law firm management software.
Contract Management
To automate and centralize your company's legal contracts, agreements, and committal or legal processes, Bytegrow offers comprehensive solutions. In addition to smoothly integrating with other mission-critical systems, our contract lifecycle solution makes use of your organizational processes. Our goal is to deliver a user-friendly interface that guarantees usability.
Case Management Software
With Bytegrow at your disposal, you can centralize, monitor, and concentrate more on your clients and cases without missing any deadlines. Our case management software features file attachments, sharing capabilities, automated workflows, database searches, topic management apps, and more. This helps you to streamline interactions with your clients and synthesize complex data.
Account Management
Our team of in-house experts at Bytegrow is well-versed with the features needed for the web application of a legal firm. We strive to provide the best integrations when it comes to account management for a legal website. With our expertise, one can ensure the best legal account management services.
Legal Management Workflow Automation
Effective workflow management is crucial given the intricacy of legal processes. At Bytegrow, our skilled developers create new systems to keep track of anything that can help to streamline procedures. Customized matter templates, also aid in automating the operations for matter management approval.
Legal Billing Management
Bytegrow is a legal software development company with a global footprint. We create bill preparation software with low retainer fee alerts and payment mechanism integration. Credit, debit, electronic transfer, and other payment gateways are all included in our payment portals. Any size legal company can use our results.
Embedded Document Management
We assist in the creation of an automated web-based solution that streamlines the operations of legal firms while securely storing enormous volumes of data and offering flawless authorization. Among the solution's complimentary characteristics are robust data management and dynamic report generation. There are fewer disagreements as a result of the legal consultants' overall operations being simplified. Get in touch with us to learn more.
Calendar & Events Management Solutions
At Bytegrow, we provide services for developing safe, web-based event management software. These determine deadlines for your case as well as other dates using the regulations of your jurisdiction. Then, it adds that data to other integrated programs, like the calendar in Microsoft Outlook. Utilizing these tools will allow you to collaborate with other clients. With lawful calendaring, Bytegrow is here to reduce your workload even further.
Third-Party Software APIs
Bytegrow is the place to go if you're seeking third-party API tools for your legal firm. APIs are a versatile and effective technique to connect both internal and external components of software and enable them to communicate with one another. Without having to create their software for the same reasons, developers can take advantage of a ready-made solution thanks to third-party integrations. Our goal is to build dynamic and reliable API services.
How can Bytegrow help the legal industry?
Legal clients can benefit from Bytegrow's assistance in developing time and billing custom software that computes and keeps track of hourly rates. Additionally, we can completely personalize legal practice management software by adding functions like workflow processes. Through this program, clients can communicate with other employees and their consumers about how the business is run daily. Some of the facts why Bytegrow is the right place to avail of legal IT services are:
Our expert team strategizes in detail and builds integrated software for legal firms daily.
We understand the complexity of legal procedures and hence create software that can handle documentation, file storage, cloud computing solutions, and more.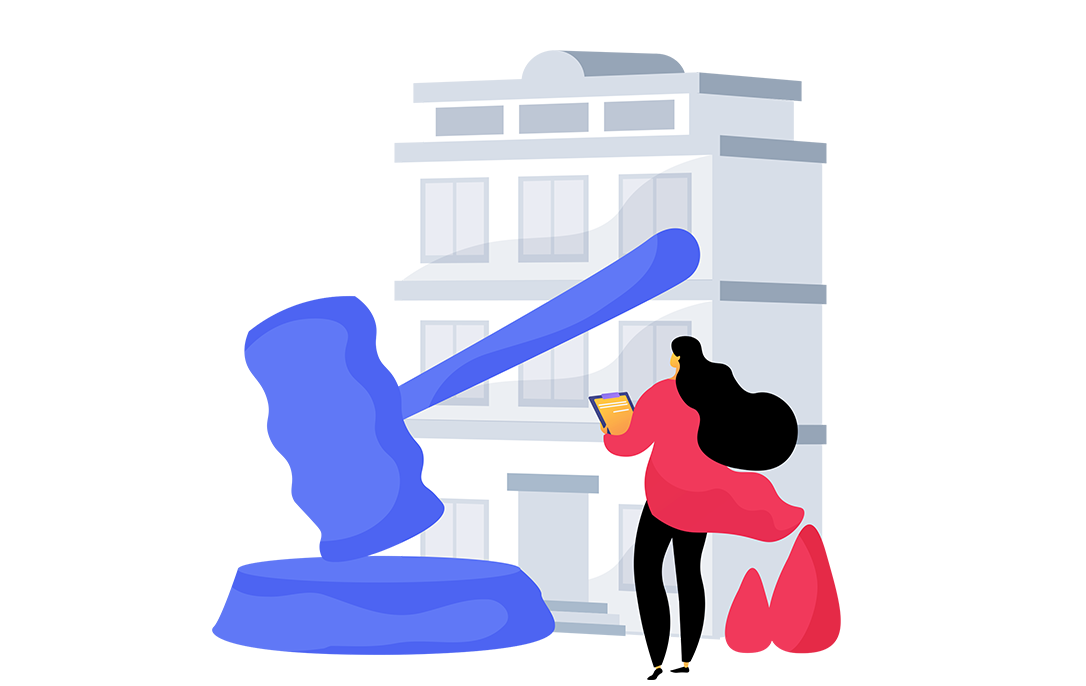 Our team at Bytegrow is well-versed in web app development and can assist in the designing and implementation of legal software solutions.
Security is of utmost concern to us and hence our apps, portals, and e-payment gateways are fully secure.
Our developers are always keen to understand your requirements and deliver the projects well on time.
SCHEDULE TIME TO TALK
Get free consultation and contact us for your project idea to turn it into a cutting edge digital product.
Legal companies we have helped to grow from scratch
Legal Management Portal for Naqwi Law
Country: Canada
Industry: Legal
Tech Stack: Laravel, Tailwind, Vue.JS, SCSS, Figma, MySQL, Zoho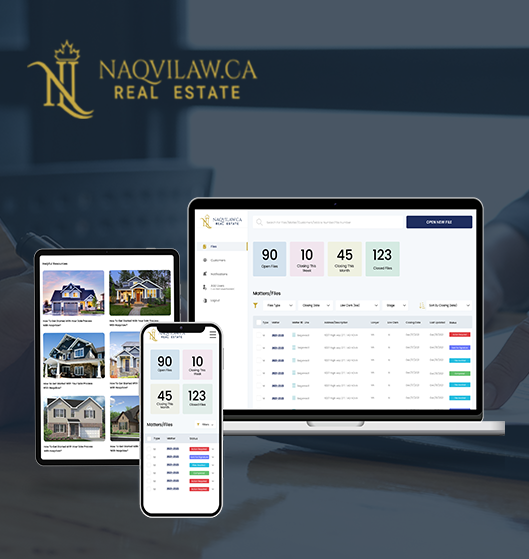 Website for Naqwi Law
Country: Canada
Industry: Legal
Tech Stack: Wordpress, HTML, CSS, jQuery, MySQL, Figma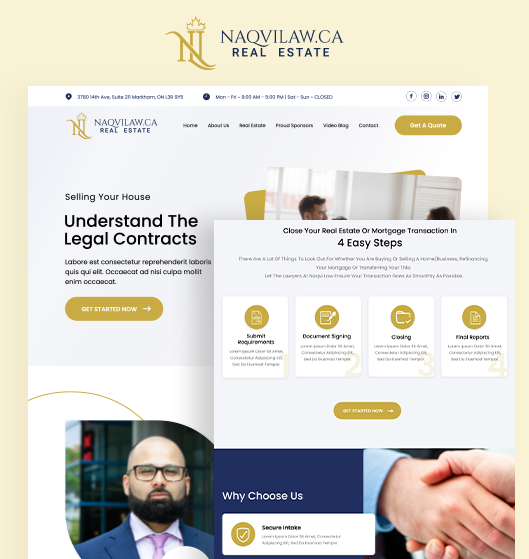 Information Website for a Trial Lawyer
Country: USA
Industry: Legal
Tech Stack: Wordpress, HTML, CSS, jQuery, MySQL, Photoshop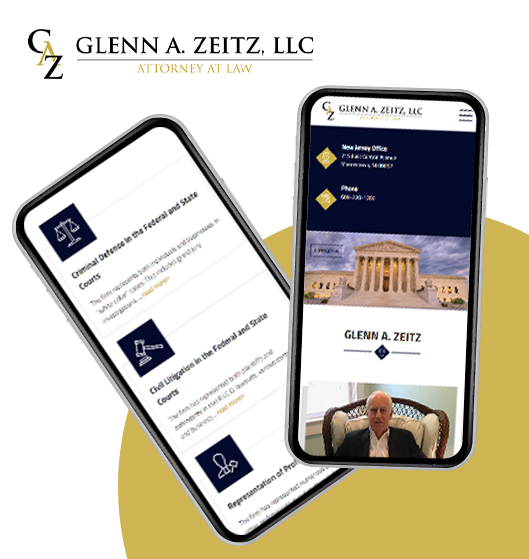 Industry Experience
We have specialization and exposure in a wide array of industry verticals
Industry Experience
We have specialization and exposure in a wide array of industry verticals
Great Reviews
.
97 Out Of 100 Clients Have Given Us A Five Star Rating On Clutch, Upwork and Google
Worked with Bytegrow on a very large and complex website. The project lasted a long time because when we first began, I was not truly prepared and continued to design the site as we went along. What began with 5 or 6 steps grew into dozens of steps, features, and pages. The team was extremely patient and put heartfelt effort into making our project a success. Great communication and took a lot of extra time to help me out - more than I could have asked, actually.
Allen Shatten
Councillor
Philatelic Society
Our website (a philatelic society) is a bit unusual. The deliverables met all our requirements. They included some very clever use of WordPress and plug-ins to give us special facilities that we can manage ourselves. After 12 months we reviewed the website and hired Bytegrow to make the changes. This process was very effective and was completed quickly and cheaply.
Dale Fernandes
Owner
Goa Car Booking
After the completion of the project, the business became more manageable and streamlined. The deliverables saved the company a lot of time and helped them focus on increasing sales in various media channels. Overall, they managed the project and communication well with professionalism and quality.
Baha Azari
CEO
Online Replacement Cushions
Hiring their team was the best professional decision I've made for my company. My website traffic went up by 45% after the site launch. Many customers complimented the accessibility of the pricing tool.
Chelsea
Production Manager
Snavely Associates
Bytegrow Technologies has successfully designed a friendly-user website. As a result, the platform has received positive feedback. The team has been communicative and collaborative in providing progress updates. They are attentive and creative in the workflow.
Lee Sheridan
Owner
Love Laos
Bytegrow Technologies has successfully created a seamless and appealing website in a timely manner and within the budget. The team maximized their development skills to exceed the client's business goals. They are prompt, receptive, and communicative throughout the workflow.
Manoj Jonna
Advisor
Ramped Careers
Bytegrow Technologies' efforts led to an increase in both applications and conversion. The team has an efficient project management process and they are readily accessible. Their openness to feedback and top-quality work make them a highly recommended vendor.