Our clients are featured in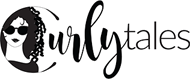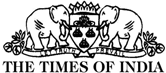 ZOHO Admin Services
Do you intend to use Zoho admin services? Quickly set up and manage all of your Zoho products from one location with our Zoho admin services when working with a Zoho partner like Bytegrow. All the methods and technologies used by Zoho CRM are familiar to our experts. Contact our knowledgeable specialists for a free consultation.
Data and Analytics Services
We recognize the value of handling data and analytics correctly, as these two aspects are crucial to any business. With Bytegrow, you can quickly and easily create relevant business intelligence (BI) reports on the move and analyze large volumes of data in a safe, stable environment. Contact us right away to learn more.
ZOHO Customization Services
According to your requirements, we provide dynamic Zoho customization services. Additionally, our professionals assist with implementation and end-user support. With our Zoho customization and implementation services, you can manage your sales, marketing, finances, customer service, and human resources while streamlining your business processes across all departments. We guarantee the top services for your company.
ZOHO Consulting Services
Each company has a distinct essence to give, as well as a distinct future vision. As knowledgeable Zoho consultants, we pinpoint and evaluate your company processes before customizing and putting into practice solutions made to meet your particular needs. We carefully prepare our services and make every effort to match the objectives of our projects with your objectives.
ZOHO App Development Services
Bytegrow assists in creating mobile apps that meet your needs as more people switch to using them. With our bespoke Zoho app development services, you may release your application more quickly. We can modify and distribute Zoho apps across all mobile operating systems using low-code platforms. For additional information from our specialists, get in touch with us immediately.
ZOHO Integration Services
Integrations of software are growing more widespread and luring more customers. By assisting you in integrating Zoho products with other programs like BI software, Google Drive, LinkedIn, QuickBooks, etc., our Zoho professionals want to add value to your business. These linkages improve user experience, which promotes business growth.
ZOHO Data Migration Services
Data migration may occasionally sound tiresome. However, you can transfer your data securely from one platform to another using our services. Bytegrow can be of the most assistance if you are considering moving your current data from another system to Zoho or vice versa. We'll make sure to provide you with the best assistance if you talk to us and let us know precisely what you need.
ZOHO Implementation Services
We deploy Zoho solutions such as Zoho One, Zoho Books, Zoho Analytics, Zoho People, Zoho CRM, Zoho Mail, Zoho Socials, and other Zoho Products because we are a Zoho authorized partner. You may manage all areas, including travel, e-commerce, education, banking, healthcare, and more, with the aid of these services.
Our Expertise in Zoho Solutions
Our team of experts at Bytegrow offers the above-mentioned services with a great level of expertise. We provide our services in the following sectors:
Banking and Finance You may optimize and automate your business's financial procedures with the help of Zoho's banking services. The majority of transactions in a firm are banking-related, and manually entering them into Zoho Books can be a nuisance. You can sync your bank feeds with Zoho using our user-friendly banking and finance capabilities, which eliminates the need for manual data entry. It's simple to keep track of the money coming into and leaving your company once your bank transactions have been entered into Zoho databases.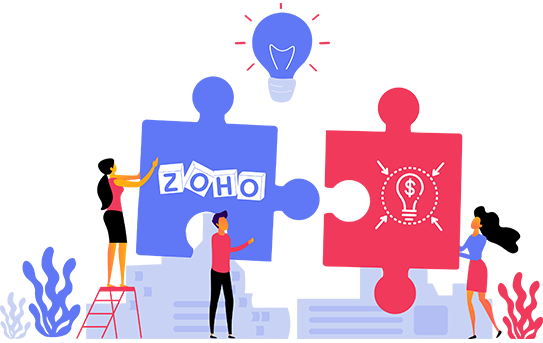 E-commerce You can create a website, take orders, keep track of inventory, process payments, handle shipping, market your brand, and analyze data with the help of Zoho e-commerce services. Using our drag-and-drop website builder and business website designs, you may create your online store. Spend less on development and sell more quickly. Use the same dashboard to interact with clients to convert website traffic, promote recurring business, and make up lost purchases. Utilize sophisticated reporting and analytics features to make wise judgments.
Healthcare With the aid of Zoho healthcare services, you may manage employment-related tasks very easily. The two crucial tools in the healthcare sector, project management, and time management can also be emphasized. Gain control over the schedules and productivity of your staff. You may create tools that make it simple for your personnel to complete daily and weekly appointments across departments.
Education This service is for you if you're in charge of overseeing the operations, personnel, and students of a learning facility. The Education Management software, which was created specifically to methodically control the numerous components of an institution, will undoubtedly simplify your job by automating a wide range of administrative duties. As an authorized Zoho partner, Bytegrow provides Zoho services in the educational sector to make achieving your long-term objectives easier.
Travel Without the proper technology, organizing your team's travel schedule can become burdensome. This business travel app using Zoho includes all the features you require to simplify employee travel, including the ability to book flights, manage passport information, and track daily spending. Utilize the trip dashboard to get a thorough view of important statistics. Showcase visa and travel requests, sorted by the state of approval, coupled with graphs of monthly spending and visits (domestic and international). Plan, budget, and keep track of all travel expenses.
Manufacturing We create low-code platforms at Bytegrow that enable you to create robust manufacturing ERP solutions for your company's operations. With our straightforward drag-and-drop interface, business and IT teams can collaborate to swiftly design and launch custom apps. You can easily manage each stage of your product life cycle with the help of our robust ecosystem of capabilities, including a schema builder, automated workflows, predictive analysis, and prebuilt connectors.
Why Bytegrow for your Zoho integration requirements?
When it comes to delivering IT services, Bytegrow never fails to impress its clients. Some of the reasons to choose us are:
Expert Team Our team of professionals at Bytegrow is highly qualified in the sphere of ZOHO CRM development and related tools. The team is always ready to learn any new updates in this field. Our team of professional Zoho developers has hands-on experience in implementing Zoho in different areas of your business.
Budget-Friendly Our Zoho services and project costs are planned in a very reasonable way keeping in mind every budget. No extra costs, enhanced projects. We believe in the power of word of mouth. With a high returning customer rate, our services have gained the trust of many to date.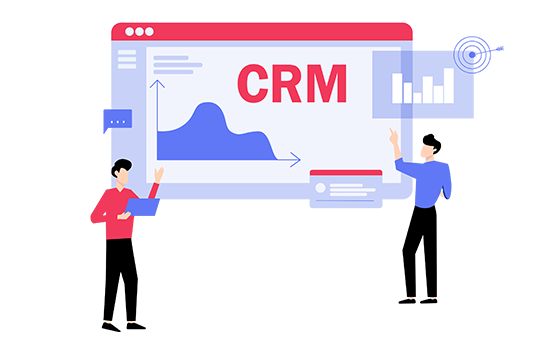 Timely Delivery The entire process of ZOHO CRM development and implementation is deadline-based. Our team puts in full effort to submit the required projects before deadlines. We highly respect each need and try our best to deliver personalized projects within the given time.
End-user Support We provide our clients with a fully functional customer support team to help them get through any kind of issue with the delivered project. We understand the complexity of certain tools and hence make sure to help our clients with installation and implementation.
SCHEDULE TIME TO TALK
Get free consultation and contact us for your project idea to turn it into a cutting edge digital product.
Zoho Services we provide to companies to help them grow from scratch
Industry Experience
We have specialization and exposure in a wide array of industry verticals
Industry Experience
We have specialization and exposure in a wide array of industry verticals
Great Reviews
.
97 Out Of 100 Clients Have Given Us A Five Star Rating On Clutch, Upwork and Google
Worked with Bytegrow on a very large and complex website. The project lasted a long time because when we first began, I was not truly prepared and continued to design the site as we went along. What began with 5 or 6 steps grew into dozens of steps, features, and pages. The team was extremely patient and put heartfelt effort into making our project a success. Great communication and took a lot of extra time to help me out - more than I could have asked, actually.
Allen Shatten
Councillor
Philatelic Society
Our website (a philatelic society) is a bit unusual. The deliverables met all our requirements. They included some very clever use of WordPress and plug-ins to give us special facilities that we can manage ourselves. After 12 months we reviewed the website and hired Bytegrow to make the changes. This process was very effective and was completed quickly and cheaply.
Dale Fernandes
Owner
Goa Car Booking
After the completion of the project, the business became more manageable and streamlined. The deliverables saved the company a lot of time and helped them focus on increasing sales in various media channels. Overall, they managed the project and communication well with professionalism and quality.
Baha Azari
CEO
Online Replacement Cushions
Hiring their team was the best professional decision I've made for my company. My website traffic went up by 45% after the site launch. Many customers complimented the accessibility of the pricing tool.
Chelsea
Production Manager
Snavely Associates
Bytegrow Technologies has successfully designed a friendly-user website. As a result, the platform has received positive feedback. The team has been communicative and collaborative in providing progress updates. They are attentive and creative in the workflow.
Lee Sheridan
Owner
Love Laos
Bytegrow Technologies has successfully created a seamless and appealing website in a timely manner and within the budget. The team maximized their development skills to exceed the client's business goals. They are prompt, receptive, and communicative throughout the workflow.
Manoj Jonna
Advisor
Ramped Careers
Bytegrow Technologies' efforts led to an increase in both applications and conversion. The team has an efficient project management process and they are readily accessible. Their openness to feedback and top-quality work make them a highly recommended vendor.