Why Shopify is Good Choice for Your Business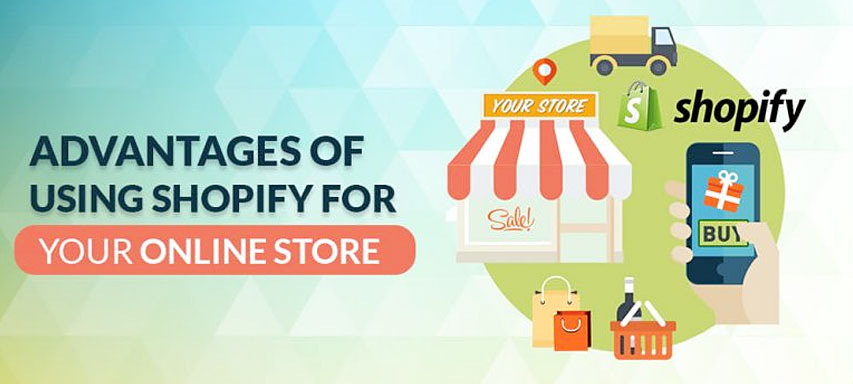 There is a saying, "Need is the mother of inventions, and its value is more powerful than the solutions one provides which itself is more powerful than technology."
That's what Shopify believes in, by providing a platform for the users that fulfill their needs without worrying about the details."
They solve the problem for online retailers by giving retailers the ability to own their products. There is just 1% of the retailers who would work on the web to create something from scratch even with Wix.com or any other website builder sites and the number of smartphone users is 10x in numbers who could easily use their phones who would love to create their own store without knowing any technological part.
Shopify does solve the problem by helping users to create everything from buying domains to finding names to choosing themes, practically whatever requires to start a business, with few clicks even with a mobile app. What could be better than that? Even without prior experience and knowledge in e-commerce to building something like that on your own, the
Shopify Development Company
will make sure to work for you hassle-free. Users will have to worry not about the code or servers or anything but their products to sell, the main need cum requirement for which they actually bought the ticket for.
Now everyone can easily start their e-commerce store online.
Unlike other e-commerce platforms like Amazon or Flipkart, where you actually do not own your own product, you can just sell it there, Shopify lets you have your own e-commerce online shop, by using Shopify as a service of course.
This Canadian e-commerce company headquartered in Ottawa, Ontario is also the name of its proprietary e-commerce platform for online stores and retail point-of-sale systems and offers online retailers a suite of services "including payments, marketing, shipping and customer engagement tools to simplify the process of running an online store for small merchants" unlike other services that just provides the website building mechanism.
Founded in 2004 by Tobias Lutke, Daniel Weinand, and Scott Lake after attempting to open Snowdevil, an online store for snowboarding equipment. Dissatisfied with the existing e-commerce products on the market, Lütke, a computer programmer by trade, instead built his own. Lutke used the open-source web application framework Ruby on Rails to build Snowdevil's online store and launched it after two months of development.
Just a few simple steps and click to start your own e-commerce business
In August 2013, Shopify announced the launch of Shopify Payments, which allowed merchants to accept credit cards without requiring a third party payment gateway
Introducing Shopify POS system also solves the major problems for retailers from all over the world since the ability to accept credit cards in-store, on the go, and everywhere in between means, you can sell anywhere practically anywhere where your customers are. It gave you the unified payment system where you can accept payments on any device while automatically updating your inventory, orders and customer data.
With POS System, you can sell online and process refunds in person or vice versa, sell in person, ship to home, etc.
Meanwhile, in 2019, Shopify acquired Handshake that deals in business-to-business e-commerce platform for wholesale goods, alongside retailers and they, name it as Shopify Plus.
In addition, e-commerce company Shopify has launched Shopify Studios, a full-service television and film content development and production house that will focus on the stories of entrepreneurs. Earlier, there were no stories to trust retailers with their products and with a lot of online options available customers really don't rely on one product or service at a time.
Shopify took the task at hand and came up with the solution namely Shopify Studios, as the name suggests, it is "dedicated to inspiring entrepreneurship through entertaining, thought-provoking storytelling".
It also provides multiple platform support to sell its products for new sales channels like Pinterest, Amazon, and Snapchat to buy and manage Snapchat Story ads directly on the Shopify platform.
The good news is, Shopify lets you use it as a trial for 14 days before you sign up for any long term deal so you can check it before putting your money into it.
In fact, even with a small business or with a small e-retail shop you could go with their basic plan just to start your new business. It's very much affordable with all the basic support like 24/7 support, unlimited products, sales channels, etc.
And you can upgrade/downgrade your business according to your requirements at any point in time.
There is no setup fee or bandwidth fee, just start your free trial and come onboard.
Shopify does the "Cognitive Load" for the Users. Cognitive load refers to the used amount of working memory resources or refers to the way information or tasks are presented to a learner.
Here, it actually lets the users help opening its online store aka e-Commerce Site without worrying about literally anything. Weather create it with your laptops, or tablets or with the most common use Smart Phones.
Shopify has it all, the one-stop problem for all the solutions, a great all-in-one e-commerce solution that can help businesses to sell more.
Apparently, working with a full-time
Shopify development agency
will be a breeze.
Bytegrow Technologies
is a proficient Shopify development agency in India and has an expert team of certified Shopify developers to ease your development work.